Troubleshooting Sign On
In some cases, you may receive an error message when signing on. The following are common errors.
Invalid ID Or Password
The most common error encountered by new Users of Collect! is the Invalid ID or Password message.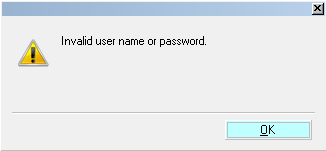 Invalid ID or Password
Passwords are case-sensitive. Try again if you see this message. If that does not work, possibly you have modified the default Operator ID or Password, or have not yet set up an Operator with the ID or Password you are trying to use. Try the solutions below.

Signon ID And Password Prompt
If you see the invalid password message, select OK to return to the Collect! splash screen.
signon.png" alt="" />
Collect! Splash Screen and Signon
Type in an ID and Password that you are sure are valid so that you can get into Collect!.

Unique Operator IDs are necessary to assign contacts to different operators. Passwords are case-sensitive.

Access Denied
If you see the Access Denied password message, this means that you are trying to sign on to one of Collect!'s databases with a User ID that does not exist in that database. This might happen, for instance, if you try to sign into the PROSDB which is shipped with only a few User ID's entered into it.


Access Denied - User not in Database

When you select the OK button, you are returned to the Welcome To Collect! screen where you can select a different database to sign into. If you need to enter a different User ID and Password, please select the LOGOUT button to return to the Collect! splash screen.

Use Default ID And Password
The Collect! Demo ships with a default_passwords.txt which contains the ID and Password OWN and own. This displays as default ID and Password whenever you open the Collect! splash screen. When you license Collect!, this TXT file is removed, so that you can immediately enter any ID and Password when you open Collect!. This must be a valid Operator already set up in Collect!.

Command Line Sign On
Your system might be set up to sign you into Collect! automatically when you select the Collect! icon on your Desktop. Perhaps this usually takes you directly to your WIP List.
Instead, you may see the Invalid ID or Password message,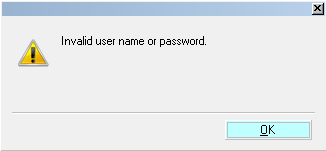 Invalid ID or Password
This means that the Operator ID and Password used in the Collect! icon's command line are not valid Operators in your Collect! database. Select OK to return to the Collect! splash screen and try a valid ID and Password.
Please examine the Collect! shortcut properties or ask your System Administrator to examine them.

User Level 99 Sign On
When signing on to Collect!I you may see this message: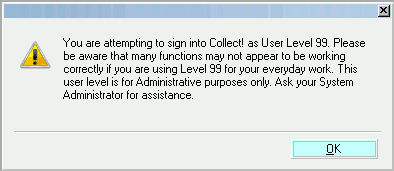 Signing on with User Level 99
This means that your User Level for signing into Collect! has been set to Level 99. You should only use User Level 99 for administrative purposes. Signing in at User Level 99 may result in losing functionality that relies on Collect!'s access rights system. So Collect! shows this cautionary message. You can select OK to continue, but it is also advised that you change your User Level to anything but User Level 99.

The sign on prompt will only trigger once you log into a database since the operator user level information exists there. It will not prompt when you are using the default 99 level operator shipped with Collect!, that is, ID 99 with User Level 99.

You can change the Password for ID 99 and Collect! will not display the message, as long as you are using ID 99 with User Level 99. Any other use of user level 99 displays the cautionary message.

Web Host Sign On
You may see the Sign On Errors message if you attempt to sign into the Web Host using command line arguments. If you are sure that the ID and Password that you are using are valid, then this error indicates that your database does not have a valid HTML folder. Please examine the files and folders in your Collect! folder or ask your System Administrator to examine them.

Signing Into Multiple Databases
Collect! stores User ID and Password settings in the system catalog to be read by the RDM Server. There is only one catalog, so if you use more than one database and you set up the same User ID in more than one database, you must make sure the Password for this User ID is the same in each database. Other settings for the User, such as Access Rights, are stored in the database. Each database has its own operator settings, so these can be different in different databases, but a User's ID and Password must be the same in each database that the user will be signing into.

Summary
It is possible that you may encounter other errors that are related to your network or computer setup. Errors of this nature must be addressed by your System Administrator.
If your Sign On issue is not covered in the help given above, please get in touch with Collect! Technical Services at 250-391-0466 option 2.

See Also